John Gneisenau Neihardt (1881-1973)
1881
John Gneisenau Neihardt was born in a one-room cabin near Sharpsburg, Illinois.
1886
John G Neihardt lived for a year with his mother and two sisters in the sodhouse of his maternal grandfather near Stockton, Kansas. There at an early age he gained the visions of a vast land and its elemental powers that infused all his later life and writings. In his autobiographical book, All Is But A Beginning, Neihardt talks vividly of these early years.
1887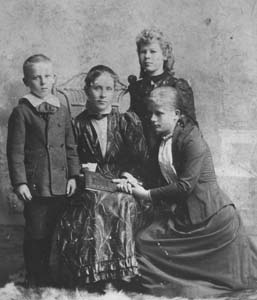 The family lived in Kansas City, where, on Sunday walks with his father, encounters with the great Missouri River gave Neihardt the "first wee glimpse into the infinite" that grew into a lifelong spiritual vision.
1891
His father left the family, and they moved to Wayne, Nebraska. In later years, Neihardt remembered Wayne fondly as his "hill of vision." For there, only eleven years old, in a fevered dream, he received his calling to become a poet.
1897
At sixteen, Neihardt graduated from Nebraska Normal College (now Wayne State) which lifted him "to a higher, creative level of being."
1900
The family moved to Bancroft, Nebraska, where Neihardt worked for an Indian trader. In that job he got to know many of the old "long hairs" on the Omaha reservation nearby. Deeply impressed, he wrote widely successful short stories based on these talks.
In those years, he also published volumes of lyric poetry that established him as one of America's most gifted young poets.
1908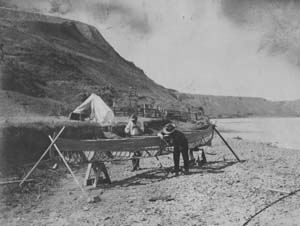 Neihardt made a dangerous trip by canoe down the Missouri River which he chronicled in The River and I (1910). In that same year he married the sculptress Mona Martinsen (who knew him only by correspondence before they decided to marry). They would remain together almost fifty years and have four children (Enid, Sigurd, Hilda and Alice.)
1912
Neihardt began his great epic work, A Cycle of the West (1948). This work is honored by many critics as among the greatest poetic achievements in the English language, and it earned Neihardt the fitting stature as "the American Homer."
1920
Neihardt moved his family to Branson, Missouri, which remained their main home until 1947.
1921
The Nebraska State Legislature named him "Poet Laureate of Nebraska and the Plains."
1930
Neihardt met the great Lakota Sioux holy man Black Elk. On the day of what seemed a chance meeting in 1930, the normally reclusive Black Elk declared through an interpreter: "I feel in this man beside me a strong desire to know the things of the other world. He has been sent to learn what I know." On this basis, Neihardt returned the next spring to interview Black Elk and then wrote Black Elk Speaks.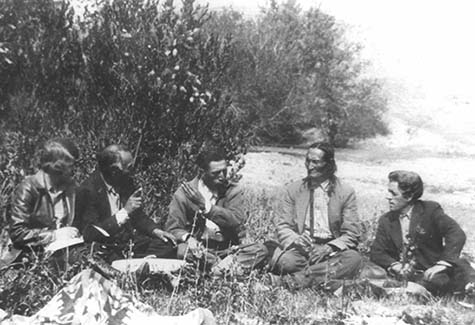 Besides being a work of great literature, Black Elk Speaks has been called the most influential book ever written on Native American culture and religion. Today, it is treasured as a profound spiritual document by countless people around the globe, from all backgrounds.
1942
Neihardt worked for the Bureau of Indian Affairs which commissioned him to write a cultural history of the Sioux people. Further interviews of old Lakota led to his finest novel, Eagle Voice Remembers (1951). It is a loving and precious legacy to a great people.
1948
At sixty-seven, Neihardt received an appointment to teach at the University of Missouri. There he taught Epic America—a class that filled an entire auditorium and was shown on television long after he retired from the classroom.
1958
Mona Neihardt died from injuries in an automobile accident.
1969
At eighty-eight, and eyesight failing, John G Neihardt returned to his spiritual home—Nebraska—to live in Lincoln. There he wrote his superb autobiography, All Is But a Beginning (1971) and recited his poetry all over the region.
1971
At ninety, Neihardt held a national audience spellbound for ninety minutes on The Dick Cavett Show.
1973
At ninety-two, John G. Neihardt died of natural causes. His ashes were mingled with Mona's and scattered from an airplane into the Missouri River.