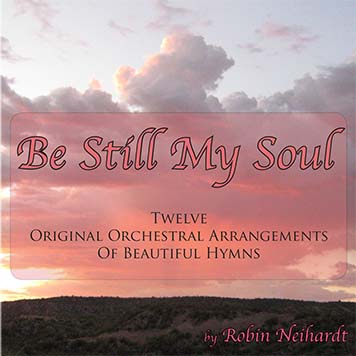 New Sacred Music CD!
12 Original Orchestral Arrangements of Beautiful Hymns
Be Still My Soul, a New Sacred Music CD,  is a collection of 12 original orchestral arrangements of hymns. I asked family members and friends, mainly my sister and sister-in-law,  to give me a lists of their favorite hymns. I chose twelve hymns from those lists to work with. Over the next 4 months, I composed the arrangements in my studio using Finale, an excellent music composition and editing program. To bring the written music to life, I recorded it in Skyyrim Studios with digital samplings of orchestral instruments and voices using Pro Tools. Then all the pieces were mastered in a similar setting so that as you listen to them,they all sound as though they were played and recorded by the same orchestra. Finally, the completed hymns were produced into this new sacred music CD, Be Still My Soul. I hope you enjoy listening to this Be Still My Soul. The CD can be purchased here.
A Bit About the Composer
Quite a while ago, Robin Neihardt graduated from the Conservatory of Music with degrees in guitar performance, music theory and composition. Over the years, he did a good deal with the guitar performance part, but very little with theory and composition—that is until the last dozen years or so. Be Still My Soul is his latest CD of original music and arrangements.
What Listeners are saying:
"The music feels warm and filled with grace. I closed my eyes while listening and was taken to a place of sweet calm."
"Amazing and beautiful! How did you do that?"
"Thank you, thank you, thank you! I do so enjoy your music."