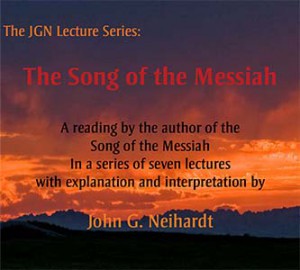 Skyyrim Studios has begun creating video projects based on the works of John Neihardt. A bit of history: My grandfather, John G. Neihardt is the author of A Cycle of the West, an epic poem dealing with the western expansion movement across America. From 1949 to 1965 he taught English at the University of Missouri. During that time, his most popular course and indeed one of the most popular ever taught at the university was titled: Epic America, which was a series of lectures and readings covering A Cycle of the West.
In the early 1960's in anticipation of his retirement from teaching, the University of Missouri recorded his entire Epic America course. For decades after he retired, this course was still offered and a waiting list to view the course was commonplace.
The John G. Neihardt Trust owns the rights to the video series and I have taken on the task of re-editing the 50 plus year old film and re-producing the entire series of 28 one hour lectures. Our goal is to not only digitally preserve the course, but re-edit the film with new color pictures and titles and then offer the course to the public in a new website titled: Epic America.
The first of the series I am working on is titled: The Song of the Messiah which deals with the "Ghost Dance" religion that spread among the Plains Indian Nations during the late 1800's. This portion of the course is a series of 7 lecture/readings.
I expect the entire project to take more than a year to complete, but I hope to have The Song of the Messiah finished before the end of 2012. It will be available in a binder of 7 DVDs.
The Song of the Indian Wars deals with the last great fight for the bison pastures of the Plains between the westering white men and the prairie tribes—the struggle for the right of way between the Missouri River and the Pacific Ocean. Since the period was of of crucial importance in the process of our national development, I have felt the obligation to be accurate. I have neither fictionized my material nor sentimentalized my characters. It seems unnecessary to list all the printed sources upon which I have drawn during the years I have devoted to the subject. The list would be long, and I doubt if any work of considerable significance bearing on the period has escaped me, whether a government report, a formal history or a personal narrative. But one can not safely trust the printed sources alone, and I have made it a duty to consult many veterans who were themselves a part of what I have to tell.
Epic America Videos: