Favorite Composers of Guitar Music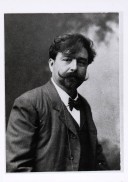 Issac Manuel Francisco Albeniz y Pascual (1860 – 1909) was a Spanish pianist and composer best known for his piano works based on folk music idioms. Many of his works were transcribed for classical guitar by Miguel LLobet, Francisco Tarrega and others. As a result, many of his pieces such as Asturias, Granada, Sevilla, Cadiz and Catulna are amongst the most important pieces for classical guitar.
Albeniz was a child prodigy who first performed at the age of four and at the age of 7 passed the entrance examination for piano at the Paris Conservatoire. He was refused admission because he was believed to be too young. When he was nine years old his concert career began with a tour throughout northern Spain. Albeniz's father was a customs agent and was required to travel frequently, and concert dates were arranged to coincide with his fathers travels. By age 15 he had given concerts worldwide.
After a short stay at the Leipzig Conservatory, he went to study at the royal Conservatory in Brussels in 1876. In 1883, he met the teacher and composer Felop Pegrell, who inspired him to write Spanish music such as the Chants d'Espagne.
The height of his concert career is considered to be 1889 to 1892 when eh had concert tours throughout Europe. During the 1890s Albeniz lived in London and Paris. In 1900 he started to suffer from Bright's disease and returned to writing piano music. Between 1905 and 1908 he composed his final masterpiece, Iberia, a suite of twelve piano "impressions".

Johann Sebastian Bach (1685 – 1750) was a German composer, organist, harpsichordist, violist and violinist of the Baroque Period. He was born in 1685 into a very musical family. His father was director tf the town's musicians, and all of his uncles were professional musicians. He learned to play the violin and harpsichord from his father.
Bach's mother died in 1694 and his father died eight months later. At the age of 10, he moved in with his oldest brother, Johann Christoph, who taught him the clavichord and exposed him to much contemporary music. Because of his skill in voice, he ws enrolled in the St Michael's School in Juneburg. After graduating, Bach went on to hold several musical positions across Germany. He served as Kappellmeister to Leopold, Prince of Anhalt-Kothen, as Cantor of Thomasschule in Leipzig, and was the Royal Court Composer to August III.
After his death in 1750, Bach's reputation as a composer at first declined; his work was regarded as old-fashioned compared to the emerging classical style. Initially he was remembered more as a player and teacher. During the late eighteenth and early nineteenth centuries, Bach was widely recognized for his keyboard works. Among his most prominent admirers were Chopin, Mozart, and Beethoven all of whom began writing in a more contrapuntal style after being exposed to his music.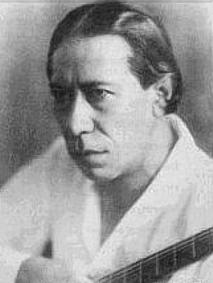 Augustin Barrios (1885 – 1944)
Augustin Barrios, an outstanding paraguay guitarist, was born in San Huan Bautista de las Missiones (Paraguay).
In early childhood, he began to play guitar and studied playing technique at school by Gustavo Sosa Escalada. In 1910, Barrios began giving concerts in Argentina, Brasilia, Chile, Uruguay, Mexico and Cuba. His first arrangements of paraguayan folk melodies and original compositions for the guitar soon became a important part of his concert repertoire.
In 1934 he performed in Brussels, Belgium then in Germany and Spain. Barrios was the first latin-american guitarist to gain fame as a performer in Europe and critics compared his virtuous performance with Paganini. After returning to South America in 1936 Barrios began teaching in the National musical conservatory in San-Salvador (Salvador).  Agustin Barrios died in San-Salvador in 1944.
Fernando Bustamente
The Argentinian musician Fernando Bustamente is well known, by name at least, for his popular song Misionera, its title derived from a region of Latin America that extends between Paraguay and Brazil. The song has been variously arranged, but is best known as part of the guitar repertoire.

Girolamo Frescobaldi (1583 – 1643)
Girolamo Frescobaldi was one of the most important composers of keyboard music in the late Renaissance and Early Baroque periods. He was a child prodigy and studied with Luzzasco Luzzachi, a noted composer of madrigals and organist at the court of Duke Alfonso II. In his early twenties he left his native Ferrara for Rome. In 1608 he published his first publication consisting of a volume of madrigals. That year he also became the organist for St. Peter's Basilica .
Frescobaldi brought a wide range of emotion to the relatively unexplored depths of instrumental music. By far most of his music was written for keyboard. He published eight collections of keyboard music during his lifetime. Frescobaldi's work was known to, and influenced, numerous major composers outside Italy, including Henry Purcell, Johann Pachelbel, and Johann Sebastian Bach.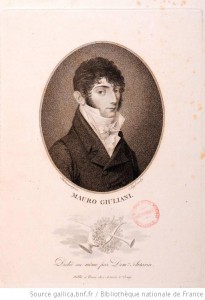 Mauro Giuseppe Sergio Pantaleo Giuliani (July 27, 1781 – May 8, 1829) was an Italian guitarist, cellist and composer, and is considered by many to be one of the leading guitar virtuosi of the early 19th century.
Growing up, Giuliani's center of study was in Barletta, Italy where he moved with his brother Nicola in the first years of his life. His first instrumental training was on the cello, an instrument which he never completely abandoned and probably also the violin. Subsequently he devoted himself to the guitar, becoming a very skilled performer on it in a short time. His teachers are unknown.
Giuliani defined a new role for the guitar in the context of European music. Giuliani knew many of the highest figures of Austrian society. He associated with notable composers such as Rossini and Beethoven.
While in Vienna, Giuliani had minor success as a composer. He worked mostly with the publisher Artaria, who published many of his works for guitar, but he had dealings with all the other local publishers, who spread his compositions all over Europe. He developed a teaching career here as well; among his numerous students were Bobrowicz and Horetzky.
In 1819 Giuliani left Vienna, mainly for financial reasons: his property and bank accounts were confiscated to pay his debtors. He returned to Italy and finally settled in Rome. His daughter Emilia, who was born in 1813 came with him. She was educated at the nunnery L'adorazione del Gesù from 1821 to 1826, together with Giuliani's illegitimate daughter Maria. Giuliani had little success in Rome; he published a few compositions and gave only one concert.
In July 1823 he began a series of frequent trips to Naples to be with his father, who was seriously ill. In the Bourbon city of Naples Giuliani would find a better reception to his guitar artistry, and there he was able to publish other works for guitar with local publishers. He performed in Portici before Francesco I and the Bourbon court. During the next few years, he appeared frequently in duo concert with his daughter Emilia, who had become a skilled performer on the guitar. Toward the end of 1827 the health of the musician began to fail; he died in Naples on 8 May 1829.

Enrique Granados y Campina (1867 – 1916)
Enrique Granados was a Spanish pianist and composer of classical music of a uniquely Spanish style. His compositions were representative of musical nationalism. He was also a talented painter in the style of Francisco Goya.He was the son of an army captain and was born in LLeida, Catalonia. In his youth he studied piano in Barcelona under Francisco Jurnet and Joan Pujol. In 1887, he went to Paris to study at the Paris Conservatoire, but was unable to gain admission. However, he was able to take private lessons with a conservatoire professor, Charles de Beriot who influenced his tone production and fostered his improvisational abilities. He returned to Barcelona in 1889 where he taught and wrote music. One of his first successes came in the late 1890s when his Zarzuela Maria del Carmen attracted the attention of King Alfonso XIII.In 1911 Granados premiered his most famous work, a suite for piano of six pieces titled Goyescas. The work was based on the paintings of Goya and was expanded by the composer into an opera in 1914. It was first performed in New York City in 1916 and was well received.Shortly afterwards, he performed a piano recital for President Woodrow Wilson. The delay caused by the recital caused Granados to miss his ship to Spain. Instead he took a ship to England. There he boarded a ferry to cross the English Channel which was struck by a torpedo from a German U-boat. Enrique and his wife Amparo were both drowned when the ferry broke in two.Many of his works were transcribed by various artists for Classical Guitar and have become a major part of the Guitar performing repertoire.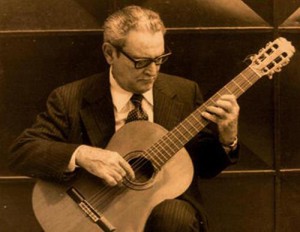 Antonio Lauro (1917 – 1986)
Antonio Lauro was a Venezuelan Musican, considered to be one of the foremost South American composers for the Guitar in the 20th century. He was born in Ciudad Bolivar, Venezuela, His father, and Italian immigrant, could sing and play the guitar and taught his son before he died whin Antonio was still a child. Later, Lauro pursued a formal musical study of piano and composition at the Academia de Musica y Declamacion in Caracas. While at the Academy he studied with famous composer Vicente Sojo. Agustin Barrios performed a concert in Carcaras in 1932 and had a profound influence on Antonio whe then abandoned piano and violin and began to study guitar in earnest. He learned the traditional Classical Guitar Repertoire and over the next ten years studied with such performers as Arilio Diaz. Diaz and other performers were responisble for presenting Lauro's compositions tha an international audience. Lauro was appointed professor of guitar at several distinguished schools including the Juan Jose Landaeta Conservatory, and was named president of the Venezuela Symphony Orchestra. In spite of his modest insistence that he was a composer rather than a performer, he was persuaded by his friends to embark upon a solo concert tour which began in Venezuela and culminated in a triumphant 1980 performance at London's Wigmore Hall. Shortly before his death at Caracas in 1986, he was presented with the Premio Nacional de Música, his country's highest artistic award.
Alonso de Mudarra
Alonso Mudarra (1510 – 1580) was a Spanish composer and vihuelist of the Renaissance. Mudarra, noted as composing the earliest surviving music for the guitar, wrote instrumental music as well as songs. He received his musical training as he was growing up in Guadalajara. In 1529 Mudarra went to Italy with Charles V in the company of the fourth Duke, the Marques de Santillana.
When he returned to Spain he bacame a priest, and in 1546 became the canon at the cathedral in Seville where he remained fo the rest of his life. There he directed all of the musical activities and worked closely with composer Francisco Guerrero. Mudarra wrote mumerous pieces for the vihuela and the four-course guitar, which was a relatively new instrument. In 1546 the music was published in a collection titled: Tres libros de musica en cifras para vihuela.
Mudarra died in Seville, and his sizable fortune was distributed to the poor of the city according to his will.
Luis de Narvaez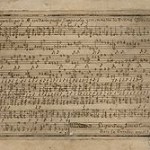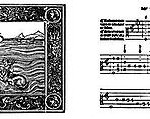 Luis de Narvaez was a Spanish composer and vihuelist (pre-curser to the Guitar) He was born in Granada, the date unknown, but the earliest surviving references to him show that in 1526 he was a member of the household of a very successful patron of the arts, Francisco de los Cabos. Los Cobos was the secretary of state for the kingdom of Castile under Charles the Fifth. It was during this time that Narvarez published his collection of polyphonic music for the vihuela, Los Seys Libros del Delphin.
Narvaez was employed as musician of the royal chapel by 1548, were he also taught music to choristers. Narvaez and a colleague, keyboard composer Antonio de Cabezon were also later employed by Phillip II of Spain. He was noted for being the earliest composer for vihuela to adapt the comtemporary Italian style of lute music to the instrument.
Narvaez was highly regarded during his lifetime for his vihuela playing. He was reported to be able to imporvise four parts over another four at sight.
Robin Neihardt
"He was born midway through the last century. Even at an early age, he yearned for enlightenment and was drawn to fine music. He fell in love with a recording by Andres Segovia, and listened to it constantly. As a young man, he was taken into the military, preventing him from pursuing his dream of music. He was sent off to war. He returned safe, but horrified by the killing. In his bewildered state, he wandered off into a dense forest and became hopelessly lost."
"Time passed, as he wandered in the wilderness. One day, he came across a massive vine growing across the trail he was following. The trail had led down into a small enchanting valley. The vine was magical in its enormity. A refreshing breeze blew up the valley and he decided to rest a bit. Sitting there musing, his eyes followed the growth of the massive vine. It grew high over the valley, supported by an enormous jacaranda tree."
"As the breeze blew, he heard faint, melodic sounds coming from high up the vine. The vine was covered with large, hand-sized leaves with long stems that rustled softly. Finally, he discovered the source of the melodic sounds. One of the leaves was brushing gently across what appreared from the ground to be an oddly shaped portion of vine. The melodious sounds were coming from there. Curious, he began climbing the vine. As he neared the portion of the vine he observed from below, he was amazed to find it was a perfectly formed guitar growing from the magical vine! The fruit of this vine was a classical guitar."
"He pulled the instrument from the vine and with it descended back down the vine to the ground. The "guitar fruit" was glorious to behold. Finely shaped and beautifully finished, it was a masterwork. He sat on a portion of the vine, took the instrument on his lap, and miraculously began to play all the pieces he had loved so well as a young boy listening to his Segovia album."
Many years hence, Neihardt has begun composing not only music for orchestra, he is also beginning to apply his talents to writing for his instrument, the Classical Guitar.
"Perhaps there is another version of the tale, however this is the only one I know. . ."
Gaspar Sanz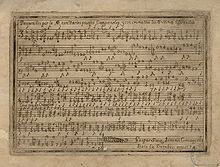 Gaspar Sanz (1640 – 1710)
Johann Pachelbel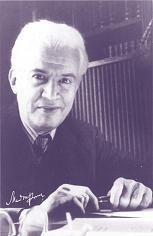 Manuel Ponce (1882 – 1948)
Manuel María Ponce Cuéllar was a Mexican composer active in the 20th century. His work as a composer, music educator and scholar of Mexican music connected the concert scene with a usually forgotten tradition of popular song and Mexican folklore. Many of his compositions are strongly influenced by the harmonies and form of traditional songs.
Ponce spend a great deal of time promoting music of the country and writing melodías like "Estrellita", "A la orilla de un palmar", "Alevántate", "La Pajarera", "Marchita el Alma" and "Una Multitud Más", Ponce gained the honorific title Creator of the Modern Mexican Song. He was also the first Mexican composer to project popular music onto the world stage: "Estrellita", for example, has been part of the repertoire of the main orchestras of the world and countless singers, although quite often the interpreter ignores the origin of the song as well as its author.

Joaquin Rodrigo Vidre (1901 – 1999)
Joaquin Rodrigo was a composer and a virtuoso pianist. Although nearly blind from an early age, he achieved great success. Rogrigo's music counts among some of the most popular of the 20th centruy, particularly his compositions for Classical Guitar. Of his contributions to the guitar concerto repertoire, Concierto de Aranjuez, Fantasia Para un Gentilhombre, Concierto Madrigal, and Concierto Andaluz are his most acclaimed. His Concierto Andaluz, for four guitars and orchestra, was commissioned by Celedonio Romero for himself and his three sons.
He was born in Sagunto, Valencia, and almost completely lost his sight at the age of three after contracting diphtheria. He began to study solfège, piano and violin at the age of eight; harmony and composition from the age of sixteen. Although distinguished by having raised the Spanish guitar to dignity as a universal concert instrument and best known for his guitar music, he never mastered the instrument himself. He wrote his compositions in Braille, which was transcribed for publication.

Julio Sagreras (1879 – 1942)
Julio Salvador Sagreras nsceu na Argentina em 1879 e faleceu em 1942 was an Argentine guitarist and composer. He has given many radio performances during his lifetime.
Guitarist, pedagogue and Argentinian composer. His two parents were guitarists, who taught him the guitar very early. Julio Salvador Sagreras participated in concerts at the age of 6. At age 12, he studied piano and composition. He progressed quickly and became professor of guitar in Académia de Bellas Artes. In Buenos Aires, he made acquaintance with the editor Francisco Nuñez, which had published a hundred compositions of Sagreras. In 1905 he opened his own school, Academia de Guitarra. Between 1900 and 1936, Julio Sagreras gave many concerts in concert halls and saloons, and also participated in radio releases.
Sagreras is also known for his methodical and well annotated guitar instruction series. It consists of seven books that take the student from the beginner to the advanced stage. The series is so well thought out and so incrementally progressive that it has often been said that the student can teach himself.
Fernando Sor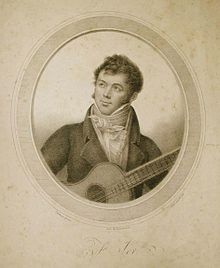 Josep Ferran Sorts i Muntades baptized 14 February 1778 – died 10 July 1839) was a Spanish classical guitarist and composer. While he is best known for his guitar compositions, he also composed music for a wide range of genres, including opera, orchestra, string quartet, piano, voice, and ballet. His ballet score Cendrillon (Cinderella) received over one hundred performances. Sor's works for guitar range from pieces for beginning players to advanced players such as Variations on a Theme of Mozart.
Sor gave concerts throughout Europe, including in England, Paris, Berlin, and Warsaw. Before the early 19th century, the guitar was little-known in England. Sor seems to have created a market for himself there and then met the demand. Sor's contemporaries considered him to be the best guitarist in the world, and his works for guitar have been widely played and reprinted since his death.
As Sor's works were published in various countries, his name was translated, leading to variations in the spelling. Variations have included Joseph Fernando Macari Sors, Fernando Sor, Ferran Sor, Ferdinand Sor, and Ferdinando Sor.
Francisco Tarrega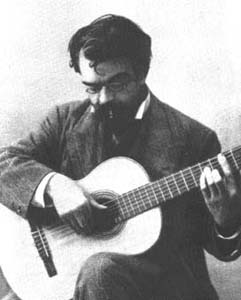 Francisco de Asís Tárrega y Eixea (21 November 1852 – 15 December 1909) was a Spanish composer and guitarist of the Romantic period.
Tárrega was born in 1852, in Villarreal, Spain. Francisco's father played flamenco guitar and several other music styles on his guitar; when his father was away working as a watchman at the Convent of San Pascual, the young Francisco would take his father's guitar and attempt to make the beautiful sounds he had heard. Francisco's nickname as a child was "Quiquet".
An infection permanently impaired his eyesight and when the family moved to Castello where the child was enrolled in music classes. Both his first music teachers, Eugeni Ruiz and Manuel González, were blind.
In 1862, concert guitarist Julian Arcas, advised Tárrega's father to allow Francisco to come to Barcelona to study with him. Tárrega's father agreed, but insisted that his son take piano lessons as well. The piano was the rage throughout Europe while guitar was viewed merely as an instrument to accompany singers. Tárrega had to stop his lessons shortly after, when Arcas left for a concert tour abroad. By his early teens, Tárrega was proficient on both the piano and the guitar. For a time, he played with other musicians at local engagements to earn money, but eventually he returned home to help his family.
In 1874, Tárrega entered the Madrid Conservatory, under the sponsorship of a wealthy merchant named Antonio Canesa. He had brought along with him a recently purchased guitar, made by Antonio de Torres. Its superior sonic qualities inspired him both in his playing and in his view of the instrument's compositional potential. At the conservatory, Tárrega studied composition and was there convinced to focus on guitar and abandon the idea of a career with the piano.
By the end of the 1870s, Tárrega was teaching the guitar (Emilio Pujol, Miguel Llobet and Daniel Fortea were pupils of his) and giving regular concerts. Tárrega received much acclaim for his playing and began traveling to other areas of Spain to perform. By this time he was composing his first works for guitar, which he played in addition to works of other composers.
To enlarge his guitar repertory, he soon began transcribing piano works of Beethoven, Chopin and Mendelsohn. Tárrega and his wife moved to Madrid, gaining their living by teaching privately and playing concerts, but after the death of an infant daughter during the winter, Maria Josefa de los Angeles Tárrega Rizo, they settled permanently in Barcelona in 1885. Among his friends in Barcelona were Issac Albeniz, Enrique Granados, Pablo Casals and Joaquin Turina.
From the later 1880s up to 1903, Tárrega continued composing, but limited his concerts to Spain. In about 1902, he cut his fingernails and created a sound that would become typical of those guitarists associated with his school. The following year he went on tour to Italy, giving highly successful concerts in Rome, Naples, and Milan.
In January 1906, he was afflicted with paralysis on his right side, and though he would eventually return to the concert stage, he never completely recovered. He died in Barcelona at the age of 57.
Moreno Torroba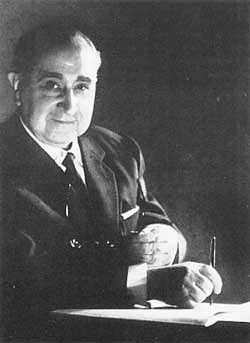 Federico Moreno Torroba (1891 – 1982)
Moreno Torroba was a Spanish composer born in Madrid. He is often associated with the zarzuela, a traditional Spanish musical form. During his career, he directed several operacompanies and helped introduce the zarzuela to international audiences. However, he is probably best known for his compositions for the classical guitar, many of which were dedicated to either Maria Angélica Funes or Andres Segovia.
Joaquin Turina
 Joaquin Turina (1882 – 1949)
Turina was born in Seville, Spain. As he was growing up, he studied in Seville ans well as in Madrid. In 1905 he moved to Paris where he lived until 1914 when he returned Madrid. While in Paris he studied piano under Moszkowske and took composition lessons from Vincent d'Indy at his Schola Cantorum. After he returned to Madrid he worked as a composer, teacher and critic. In 1931 he was made professor of composition at the Madrid Royal Conservatory. One of his notable students at the conservatory was Celedonio Romero. During his life, Turina composed pieces of chamber music, piano works, guitar pieces and songs. Much of his writing shows the influence of traditional Andalusian music.
Sylvius Leopold Weiss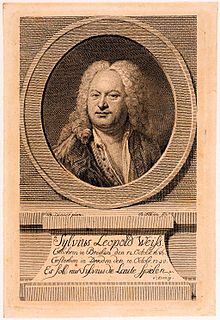 Sylvius Leopold Weiss (1687 – 1750)
Weiss was born in Grottkau near Breslau. Weiss was one of the most important and most prolific composers of lute music in history and one of the best-known and most technically accomplished lutenists of his day. He served at courts in Breslau, Rome, and Dresden, where he died. He wrote around 600 pieces for lute, most of them grouped into 'or suites, which consist mostly of baroque dance pieces. Weiss also wrote chamber pieces and concertos, but only the solo parts have survived for most of them.
In later life, Weiss became a friend of J.S.Bach. Weiss and Bach were said to have competed in improvisation, as the following account by Johann Reichardt describes:
"Anyone who knows how difficult it is to play harmonic modulations and good counterpoint on the lute will be surprised and full of disbelief to hear from eyewitnesses that Weiss, the great lutenist, challenged J. S. Bach, the great harpsichordist and organist, at playing fantasies and fugues."