Introduction
I am classically trained as a musician and am a composer and a classical guitarist. I have numerous albums of my compositions. However, I have never been able to limit myself to one form of creativity and I love to build things with my hands. I have built custom furniture for 40+ years. I have created numerous items from small boxes to large wall units to restaurant tables. I have used mostly red oak and walnut, but have built a lot of furniture out of mahogany and cherry.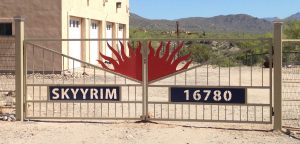 Years ago, I got started in steel fabrication and have created numerous custom gates.  To view some of the gates I have created, click on the picture to the left.
Now, in addition to wood working for furniture and steel fabrication for gates and other larger items,  I am combining the two media to make furniture and other items of interest. The possibilities are limitless and should provide endless pleasure in creating and learning how to build more and better items.
To view some of the gates I have fabricated, go here.
Here are a few pictures of the latest coffee table I created.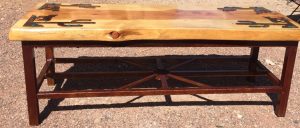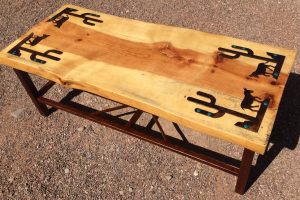 It is made of a welded steel base, that suggests a wagon wheel below the top. The table top is a single slab of wood about 2 inches thick with "natural tree" edges. It is approx. 24 X 48 X 18. The steel is rusted and then covered with a clear polyurethane coat. The wood slab had such striking colors that I just used a clear coat of finish. The Burro cactus designs in the 4 corners is 1/8 inch rusted steel and are used to fasten the top to the base. The bolt heads are turquiose.