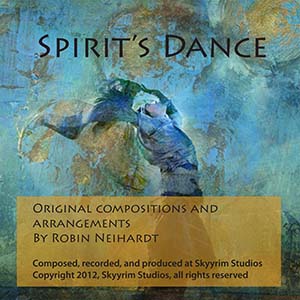 Spirit's Dance
Spirit's Dance, released in September of 2012 is a collection of original compositions and one adaptation of a choral work. The CD can be purchased here. The title came about as the winning entry of a naming contest. I had composed a piece, but could not come up with a name other than "In 9/8", which was the time signature. During the contest, the judges decided on "Spirit's Dance" for the name of the composition and the album title.
"Berceuse" is written for solo violin, solo cello and string orchestra. It is a lyrical lullaby. Although a berceuse is generally written in triple meter, I chose to compose mine in 4/4 time.
My sister and I were visiting the other day and she was telling me about a piece for choir that she really enjoyed. The title was "Come to the Water" and was written for SATB by John Foley, a Jesuit Priest. I had never heard it before and loved it when I first played it. As a result, I composed my own arrangement of the music.
"For Jessica" was composed after a friend's daughter passed away at a young age. It is in three parts, the first and third portray living and life while the middle section represents passing away and mourning.
A couple months ago I was sitting, my mind idly chattering away as it will, when a profound sense of loss washed over me and I suddenly wished I could be visiting with my mother and talking and laughing as we once did. "Hilda's Piece" was composed out of that sense of loss as a way to honor her memory.
Some friends and a little alcohol created a situation where someone was wanting me to learn the two-step. I am not much of a dancer, but the next day this whimsical piece for violin, piano and orchestra came to mind. I think I would rather compose a "Two-Step" than dance one.
I recently re-read The Song of the Messiah by John Neihardt, an epic poem about the Ghost Dance Movement of the Native Americans in the late 1800's. I wrote "The Song of the Messiah" in honor of those great Indian Nations.
I composed "Processional" for my daughter on the occassion of her being granted a Doctorate. I am hoping the composition will give me a pass so I do not have to call her Dr. Alexis all the time.
"Skyyrim" to me resembles the lovely desert environment in the foothills of the Bradshaw Mountains in Arizona, the home of Skyyrim Studios.